Music Lessons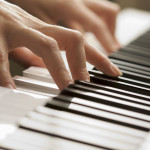 Whether you're a beginner or advanced player, Duet with Music has the perfect teachers to enhance your musical desires. If your interest is in piano, guitar, voice or most any other instrument, we have the instructor you're looking for.
Duet with Music offers private music lessons and group music lessons with the best qualified instructors, all at our Frederick Maryland location.
Our instructors offer complete training including music reading, theory, and performance related aspects. All with a professional and honest approach.
Master Classes are also available for composition, voice, performance and theater. Please call us at (301) 695-3838 or email lessons@duetwithmusic.com for more details.
Search for Music Lesson Availability